Financing
Invest in your smile!
At Clinique Dentaire Tremblay, we accept payments through Visa, MasterCard, Interac, Cash, Accord D and Dentoplan
ADVANTAGEOUS FINANCING PLANS FOR YOUR DENTAL TREATMENTS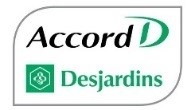 Desjardins Accord D
- Complete an application in just a few minutes with one of our receptionists at the clinic. 
- Flexible payment options 
- Financing is available on your Desjardins credit card in the form of a second credit limit.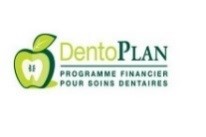 We also offer our patients the possibility to obtain financing through DentoPlan, which offers you:
- Easy credit approval
- Immediate access to an optimal and full dental plan
- The only program exclusively created to ensure dental health financing
- DentoPlan lets you invest in your smile
- Financing at 100% or less
- Your Dentist office will take care of the administrative process
For additional information, we invite you to visit us at www.dentoplan.ca or by email at info@dentoplan.ca
Tax credits for medical expenses
Did you know that there are tax credits for medical expenses which can include dental care? 

We invite you to consult a financial advisor to carefully plan the amount of credit you may be eligible, depending on your income and the period of your treatments. 

The savings are significant! 

Visit 'Tax Credit Association des chirurgiens dentistes du Québec at 514 282-1425 toll free 800 361-3794, or by email at  info@acdq.qc.ca for more information