ZOOM teeth whitening
Modern smile aesthetic : WHITENING
Teeth whitening, one of the most popular methods to restore radiance to your smile.  It can be a good process for those seeking easy and immediate results.  Over time, teeth loose their radiance and become duller.  Excessive consumption of tea, coffee, tobacco, as well as pollution and food colorings contribute to this situation.  The use of hydrogen peroxide gel can correct this problem.  It is important to verify the pros and cons of using such products as these treatments are only applicable on healthy gums and teeth. Before your smile whitening treatment, a complete dental examination will be done by a dentist from our clinic.

Rediscover the pride of having a bright, even smile!
At the Clinique dentaire Tremblay, we offer the Zoom whitening treatment, a chairside treatment in only one appointment.
The Zoom whitening treatment is considered one of the safest treatments in bleaching to date and it offers immediate results.  The dentist applies hydrogen peroxide gel on the teeth which is exposed to a specific light that accelerates the treatment.  Our team members supervise this process with care and attention to detail.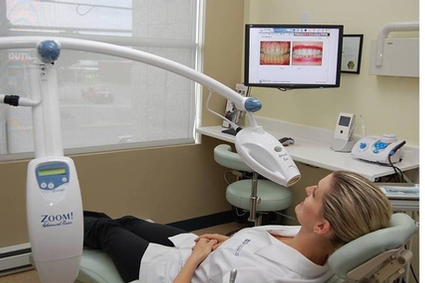 technology use
Zoom
This clinical whitening procedure is designed to remove stains and discolorations on the teeth, and also obtain a lasting shine.  Safe, fast and efficient, you obt...
learn more