Computer-guided implant surgery
Computer guided surgery is a virtual system that improves the reliability and accuracy of implant treatments and enables the execution of treatment planning  based on 3D jaw modeling.
The planning process involves three key steps:
.   A CT Scan produces a detailed image of the bone structure revealing the
    quantity and quality of the patient's bone structure in 3D.
 .  This information is recorded in interactive software enabling the dental
    surgeon to evaluate the patient's anatomy and simulate the implant
    positioning as well as the bone augmentation.
 .  We can then order the computer generated surgical guides according to the
    specific treatment plan of your case. The dental surgeon will use these
    surgical guides to proceed with the surgery with more precision, more
    predictability and minimally invasive.
12 years of experience in guided surgery!
Dr. Tremblay has been practicing guided surgery for more than 12 years.  At our implantology clinic, you will have access to state-of-the-art implant treatments.  This procedure is less invasive and traumatising for the patient.  It is now possible to position implants with ideal emergence profile.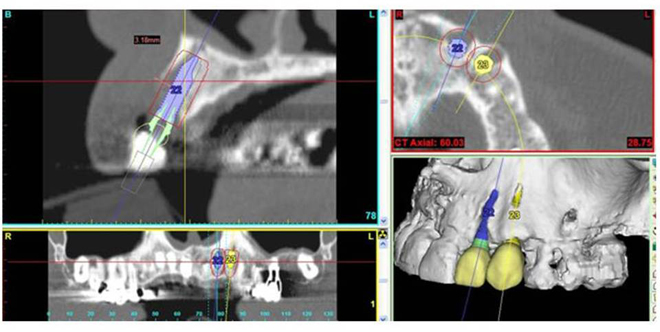 Dr. Tremblay has been published in scientific journals about dentisrty on this subject. You may consult his curriculum vitae to see the refernces to these publications.
Pain tolerance management:   Dr. Tremblay uses pain free surgical techniques which enable a better implant integration in the bone structure, optimized comfort for the patient during surgery and speedy recovery after surgery.
Our patients appreciate our open minded policy, the effective procedures requiring less follow-up visits, allowing a quick return to professional and social life.