New patients
To better serve you, kindly complete the enclosed medical form. This confidential information will be reviewed by your dentist and kept in your personal file.
Dr. Gilbert Tremblay and his team of dental professionals are pleased to welcome you to the Clinique dentaire Tremblay. 
Choosing the right dental clinic and dentist is a very important and personal decision. This is the reason why we offer you our state-of-the-art facility with the latest advances in dental technology to achieve maximum results. Our care is provided in a calm and safe atmosphere, thanks to our highest standards in sterilization methods. 
For the last 25 years, the dental and implantology clinic has been offering a complete array of family-oriented services, starting with regular preventive check-ups. Given prevention is your priority; this is why we now offer an oral lesion screening test called "An ounce of prevention is worth a pound of cure". In addition to this test, there are other advanced treatments such as complete rehabilitation in malocclusion cases, implant insertions, surgery, crowns and prosthesis for edentulous or on implant cases.
To all new patients receiving a full dental examination and cleaning at our clinic, please see the following offer!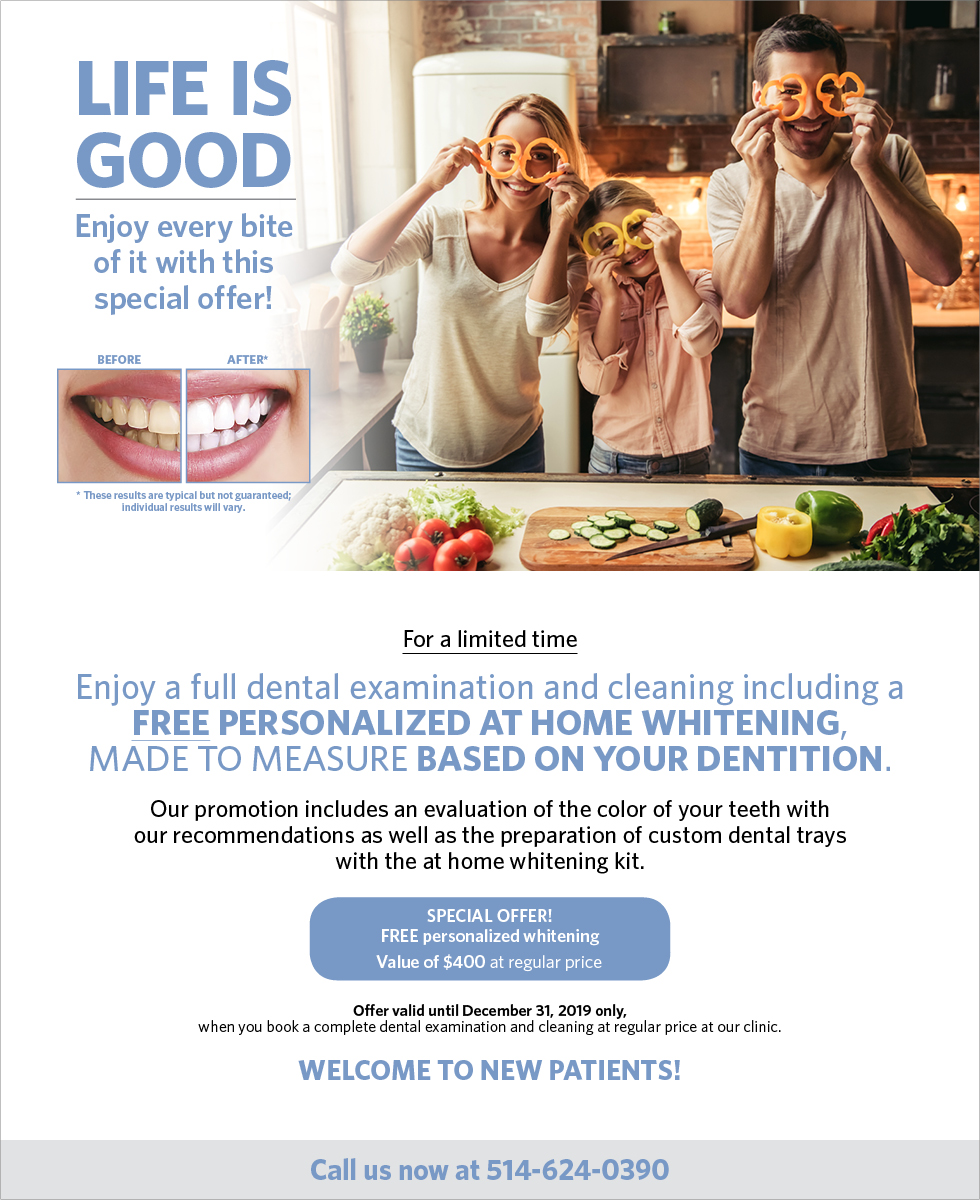 Amongst some of the advanced technologies, we also offer the laser technique used for ulcers or tooth sensitivity also promoting faster healing and better results following surgery. On a more aesthetic note the ZOOM is used as a more efficient whitening treatment.  Our clinic also offers CEREC, for teeth reconstruction in only one visit. 
Making your dental health a priority is the right decision!
Special attention and care will be given to your needs; we are committed to the best advice in preventive dental care and treatments that meet your expectations. 
MEANS OF PAYMENT AND FINANCIAL HELP
At the Clinique dentaire Tremblay, we accept payments from Visa, MasterCard, Interac or by check. We also offer you the possibility to obtain financial help from the Dentoplan program:
- Quick credit approval
- Immediate access to a complete Optimal Treatment Plan
- The only program designed exclusively for providing dental care financing
- DentoPlan let's you invest in your smile
- 100% or partial financing
- Your Dentist office will take care of the administrative process
- Give you immediate access to treatments that you may otherwise have had to post-pone
For more information, we invite you to go to www.dentoplan.ca. 
You will find our contact information beneath the label Contact us.